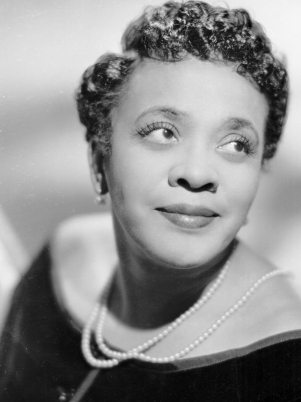 Jackie "Moms" Mabley, born Loretta Mary Aiken (March 19, 1894 – May 23, 1975) was an American standup comedian and a pioneer of the so-called "Chitlin' Circuit" of African-American vaudeville. She took her stage name, Jackie Mabley, from an early boyfriend, commenting to Ebony in a 1970s interview that he'd taken so much from her, it was the least she could do to take his name. Later she became known as "Moms" because she was indeed a "Mom" to many other comedians on the circuit in the 1950s and 1960s. She came out as a lesbian at the age of twenty-seven, becoming one of the first triple-X rated comedians on the comedy circuit.
During the 1920s and 1930s she appeared in androgynous clothing (as she did in the film version of The Emperor Jones with Paul Robeson) and recorded several of her early "lesbian stand-up" routines. Mabley was one of the top women doing stand-up in her heyday, eventually recording more than 20 albums of comedy routines. She appeared in movies, on television, and in clubs, and performed at the Michigan Women's Festival shortly before her death in 1975.
Mabley was born in Brevard, North Carolina. Although she always claimed a birthdate of 1894 and that she was one of a family of twenty children, the 1900 Federal Census shows "Loretter Aiken" in Brevard was born in March 1897 and was the youngest of four (out of five) surviving children of James P. and Mary Aiken. Her father owned and operated several businesses, while her mother kept house and took in boarders. Her father died in an accident when Loretta was eleven. In 1910, her mother took over their primary business, a general store.
James Aiken's father, Henry Aiken, was part white. His mother, Bettie, was able to read and write in the 1870 census, five years after the abolition of slavery, which suggests she may have been a free woman of color. Loretta Mabley's genealogist, D. Richmond, wrote: "She has a very interesting lineage worth researching."
(
Read more...
Collapse
)
Source:
http://en.wikipedia.org/wiki/Moms_Mabley
(
Further Readings
Collapse
)
This journal is friends only. This entry was originally posted at http://reviews-and-ramblings.dreamwidth.org/3607257.html. If you are not friends on this journal, Please comment there using OpenID.
I asked to all the authors joining the UK GLBTQ Fiction meet in Manchester in July (
http://ukglbtfictionmeet.co.uk/2013-event/2013-attendees/spotlight_authors-2/
) a personal favor, a special Ebook Giveaway: twice a week I will post 1 book from each author, and among those who will leave a comment, I will draw a winner. Very easy and very fast ;-) I will send a PM to the winner, so remember to not leave anonymous comments!
Today author is Blaine D. Arden:
Blaine is a purple haired, forty-something, writer of gay romance with a love of men, music, mystery, magic, fairies, platform shoes and the colours black, purple and red, who sings her way through life.
Born and raised in Zutphen, the Netherlands, she spent many hours of her sheltered youth reading, day dreaming, making up stories and acting them out with her barbies.
When not writing, reading or at choir practice, Blaine has singing lessons and hopes to be in a band someday.
The Forester by Blaine D. Arden
Publisher: Storm Moon Press LLC (December 21, 2011)
Amazon Kindle:
The Forester
Kelnaht, a cloud elf, is a truth seeker caught between love and faith. Worse, a murder committed ten days before Solstice reveals an illicit affair between two tree elves he desires more than he can admit: Kelnaht's former lover Ianys, who once betrayed him, and the shunned forester named Taruif, who is not allowed to talk to anyone but The Guide, their spiritual pathfinder. When Taruif turns out to be the only witness for the crime, Kelnaht has to keep Ianys from sacrificing himself and losing his daughter, while at the same time realising he'd gladly sacrifice himself to end Taruif's loneliness.
This journal is friends only. This entry was originally posted at http://reviews-and-ramblings.dreamwidth.org/3606842.html. If you are not friends on this journal, Please comment there using OpenID.


Due to an urgent family problem, my husband and I cannot attend Wiscon 37. We have a governor's suite room booked from Thursday to Sunday. Please contact me if you'd like me to transfer it into your name.

We would be willing to help subsidize part of the transfer since, at this point, we'd rather money go into helping someone enjoy their convention rather than a late-cancellation fee go straight into hotel coffers.

ETA: We were able to transfer the room. I hope everyone has an amazing Wiscon and we wish we could be there.
Hello,
The first episode of Glee establishes much of what will go on well into the first season and some of which will go beyond. Emma has a crush on Will. Kurt and Rachel both have crushes on Finn. The slushies are there, which goes well into the fourth season. Quinn is antagonistic towards Rachel. Duets are established as showing friendships or romance, or leading to friendship or romance. Vocal Adrenaline is an important opposing team, which goes on through the third season. There's a lot set up.


I cut a stalk of irises because it had fallen over into the driveway and I figured it would get run over. It has a couple of blossoms fully opened and a bud that I hope opens.

Dad and I watched the pilot episode of Glee. I will do a marathon before season five starts. I don't know if this is the start of it. I kind of want to get Dad into it, but he'd have a lot of catching up to do. The first episode I saw as it aired was "Original Song," and I thought I had a lot of catching up to do. I think I'd seen the first half of season one on DVD by that time.

I have an editing job due tomorrow that I may finish tonight.
I went to bed probably between 1:00 and 2:00 a.m., and woke a bit after 10:00 a.m. I made it to an appointment.
My friend Paul contacted me with a wonderful news: he is getting married! This is a wonderful news, but it's even more wonderful because Paul is supporting a charity project and of course I'm all for spreading the news. So please welcome Paul and share with him this joyous news:
Several years ago, I painted
Noah's Gay Wedding Cruise
to express my optimism about the marriage equality movement. I believed we were on the cusp of great progress, and I chose to symbolize our inevitable victory with my own version of the Noah's Ark story. I painted a grand ark/cruise ship filled with happy gay and lesbian animal couples and a few human guests too (like Ellen DeGeneres/Portia de Rossi, and Elton John/David Furnish). There are even some drowning sinners (such as Ann Coulter, Larry Craig, Sally Kern, and Fred Phelps)!
Fast-forward to now. Indeed we have come a long way! Twelve states have legalized gay marriage, and important decisions about DOMA and Proposition 8 are being considered by the Supreme Court. Unfortunately I still live in a state where I am not allowed to get married, but Dennis and I have decided to do it anyway. We are excited to be a part of a special initiative by the group
MarriageEvolved
called C-Bus of Love. Along with 24 other LGBT couples (who also can't get married in their home states), we will be traveling by bus to Washington D.C. this June to get married on the steps of the U.S. Supreme Court.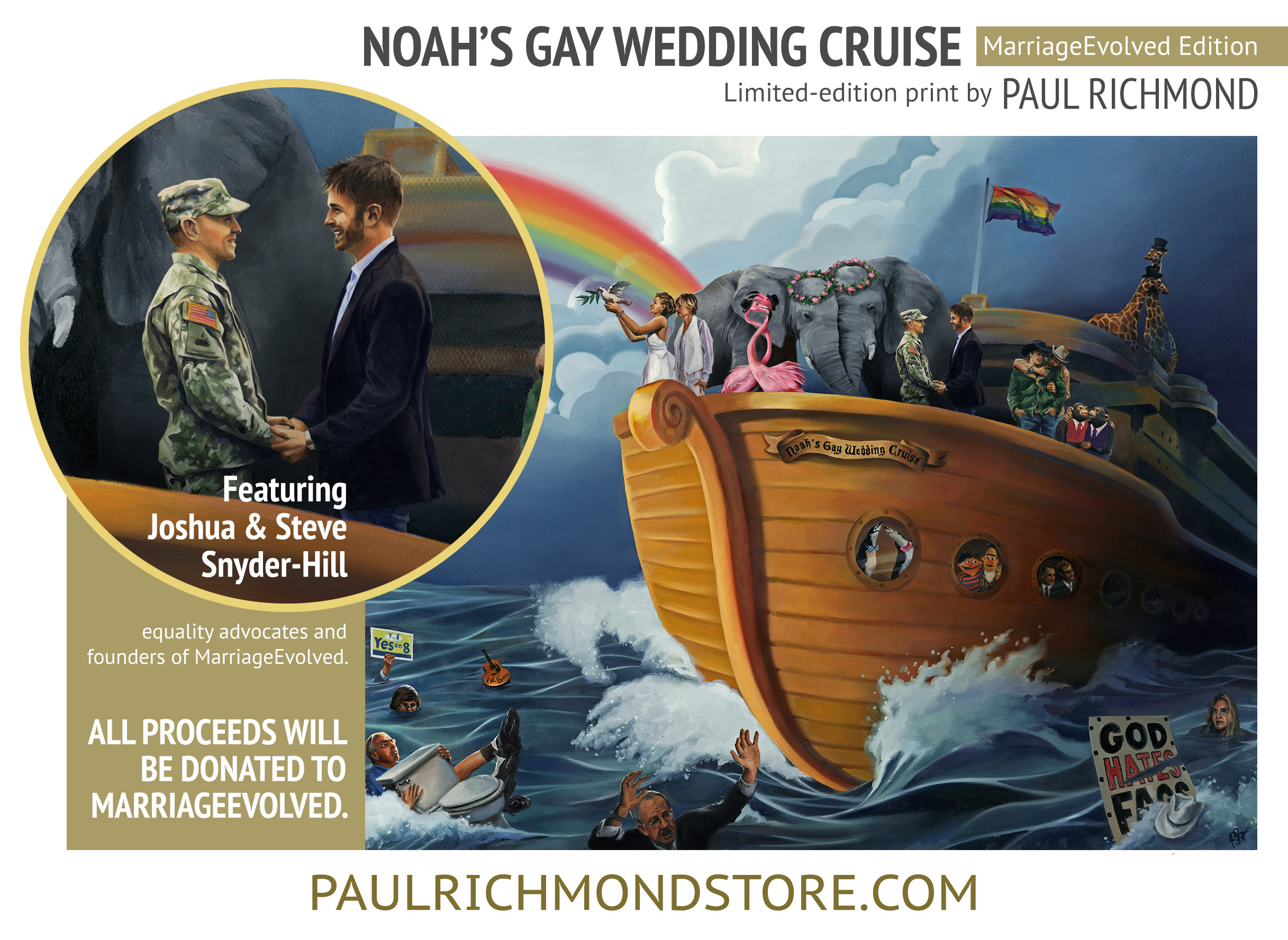 In honor of this, I'm releasing a special new print --
Noah's Gay Wedding Cruise: MarriageEvolved Edition
. It's an update of my original painting with the addition of Joshua and Steve Snyder-Hill, the two founders of MarriageEvolved. Steve is the soldier
who was booed during the Republican primaries last year
after asking a question about Don't Ask, Don't Tell. The incident caused great controversy for the candidates who did nothing to discourage the crowd from booing someone serving their country. I can't imagine the bravery it must have taken to out himself on international television while on active duty. Together, he and Joshua have championed the cause of marriage equality, even fighting DOMA on the national level to establish equality for LGBT military spouses, and they won't rest until everyone in this country who wants to get married will have the right to do so. I'm proud that they are our friends and thrilled to add them to the crew of
Noah's Gay Wedding Cruise
-- especially since they are the co-captains of our own upcoming wedding excursion!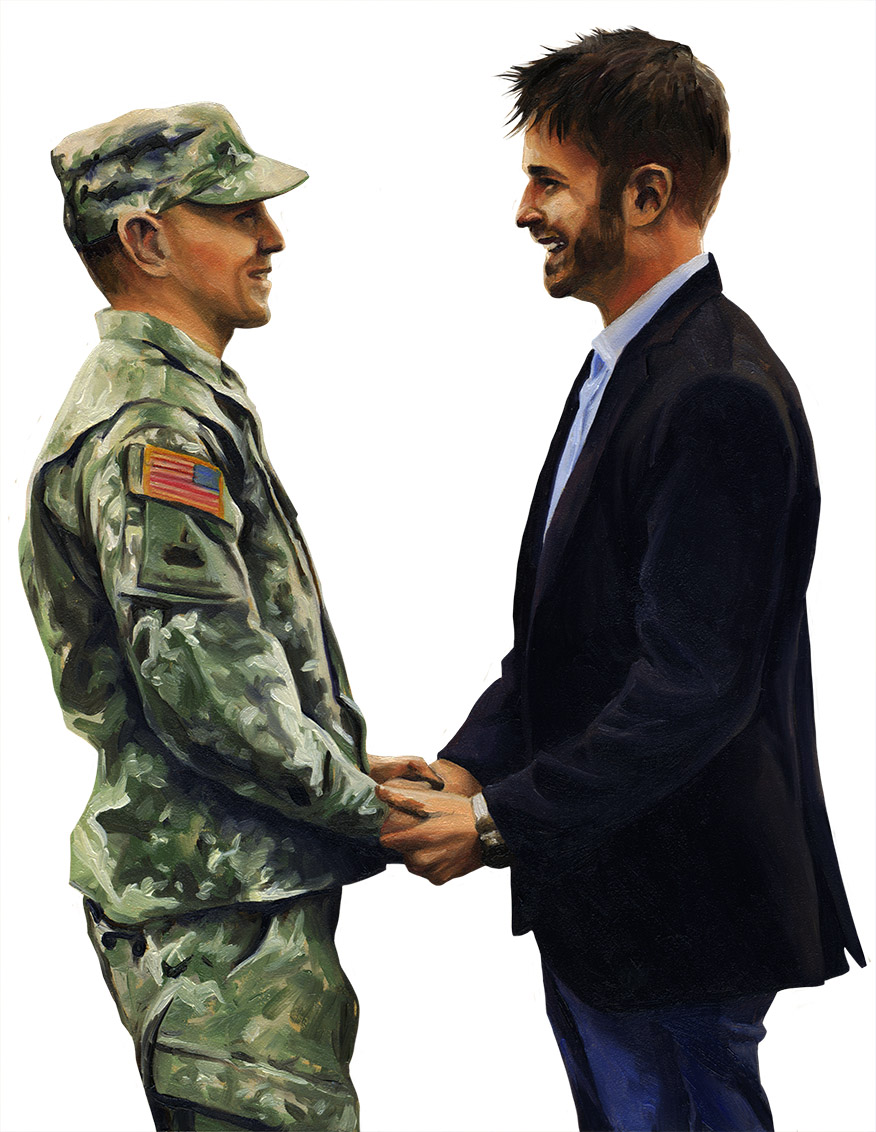 Josh & Steve
100% of the profits from the sale of
Noah's Gay Wedding Cruise: MarriageEvolved Edition
will be donated to MarriageEvolved to help pay for the C-Bus of Love trip and future advocacy work of the organization. It's an important, worthwhile cause and I encourage everyone to show their support by purchasing a limited-edition print today. They are available in three different sizes in my online store
HERE
.
13" x 11" - $35
20" x 16" - $75
26" x 20" - $150
Visit the
C-Bus of Love
website to learn more about our upcoming road trip for equality. And check out our
wedding bio
while you're there!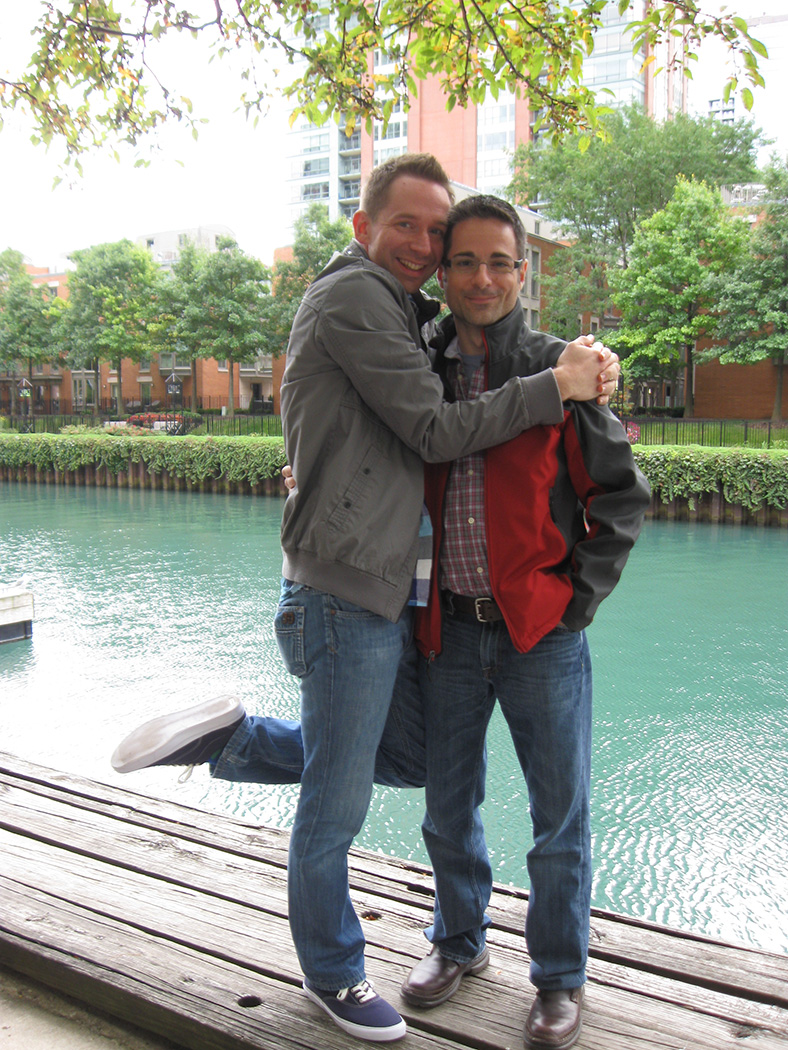 Dennis & PaulSo, what you are waiting for? go and buy these wonderful prints to support MarriageEvolved, and to close this post, I want to add my "special edition", the Gold Marriage LGBT Couples, those partners who managed to stay together for more than 50 years, despite the history "telling" them they were not married, but in their case, the legal papers didn't mean nothing, they were officially married in their heart.


(
Read more...
Collapse
)
This journal is friends only. This entry was originally posted at http://reviews-and-ramblings.dreamwidth.org/3606382.html. If you are not friends on this journal, Please comment there using OpenID.