If you're curious about what's going on with me or my work, I would LOVE to send you a newsletter! I send a few different types of email newsletter. JCP News is the monthly big email with articles, links and recommendations that comes out the 15th of each month. The Quick Link email will alert you if I have a new book out. Saturday Snippet is a fun quickie with a story quote, deleted scene, flash fic or other small goodie that I'll send on a Saturday (but not the same week as the monthly JCP News so as not to bombard you.) The Weekly Coupons is a bit of a misnomer, since I actually run coupons for JCP Books on the 5th and 25th nowadays. And the News about Majenta is for those of you interested in my m/f erotica!
You can also use this form to update your current preferences if you'd like to opt in or out of any of the email groups.
Bringing Down the House
Recently I read "what's the scariest thing you've ever done?" My first thought was, "I flew a plane." That was so frightening I barely remember it. And yet I think it wasn't actually the scariest-scariest thing, because there was a guy in the co-pilot seat who knew what he was doing.

In 2010 I explored a couple of abandoned houses with my friend Amy. That was super scary. Like, so scary my ears were ringing and I tasted metal. House 1 - House 2.

My Channeling Morpheus series features plenty of crumbly, abandoned things. I suspect the characters are not nearly as spooked by the experience of poking through the ruins as I was. I guess they're used to it.

If you haven't yet read this hot encounter in an abandoned house, come grab your copy of Heaven Sent! You don't need to have read the rest of the series to enjoy it--though if you haven't yet sampled Channeling Morpheus, I hope it'll entice you to explore it further!

Heaven Sent
The Midwest is full of huge gaps where things once thrived, until the Interstate landed…somewhere else. Wild Bill and I found this house between cornfields in the middle of Iowa. "Watch out for busted needles, Mikey," Bill had warned me. "This was a squatter's paradise. Once."
Only one bedroom had miraculously survived the warp and rot that took the rest of the house. It was before dusk when I woke there, squeezed in a little kid's bed. I pried myself out from between Bill and the wall and scratched my stubble. I needed a shave, which wasn't gonna happen. No electricity, no water. I fingered sleep and old eyeliner from the corner of my eye, pulled a strand of hair out of my mouth, and blinked. Cowboy sheets. What more could we want?
Wild Bill was still fast asleep. He tells me that what you see in the movies, about vampires being dead while the sun is high, is all a load of crap. He says he's just a very deep sleeper.
I pressed my ear to his chest and listened to the slow, deep thrum of his heart. No, not dead. Just sleeping for all he was worth.
When I shifted back and pressed my lips to his stomach, his skin was cool. He needed to feed, but not from me. One man's marrow couldn't keep up with the demand, so he'd drink from a stranger, then follow it up with a chaser from me. This solution wasn't ideal, but it was the best we could come up with.
I stroked Bill's stomach with my cheek. My breath warmed his skin for a moment. Something shifted under my shoulder. Wild Bill might sleep deeply, but part of him was waking up early.

Read on...
A Channeling Morpheus for Scary Mary ebook box set
. I'm promoting this series as my backlist spotlight in February and I've got lots of cool giveaways coming up!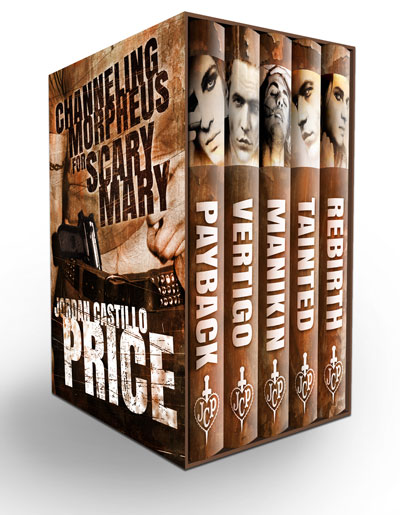 Don't miss this rafflecopter for
Magic Mansion post
where reader Katelyn shares stories from the magician's assistant side of the curtain. In her high school years, she performed with the Pendragons!
Don't miss the fascinating comments on this
One thing I really loved as I wrote Magic Mansion was the comments I got from the readers. Their interaction kept me so motivated! Here's a little sample from the part where readers got to vote on two characters were auditioning to get on the show:
A member of Team Francis said:
Hmmm, Kevin or Francis? This is a hard choice because they're both substantial characters with a lot to offer. Kevin is machiavellian and Francis is so needy, weird, and whiny. Both could add a lot to the plot, but Francis is especially fun to read about, so I'll vote for him.
A Kevin-voter said the following:
My choice to keep is Kevin Kazan; not because he's likable, but because he would bring a different slant to the magic competition. He seems more like the modern magicians and a clash between the modern style of magic and the more classical and "real" magic sounds great. I don't know if Kevin has real magic or not, but I think he'd make a great character you'd love to hate.
And some other fun general comments were:
Like that the characters are not twenty-somethings for once, and, Ricardo is definitely hot.
Find Magic Mansion at http://amzn.to/1SWAoA3
Magic Mansion forged a special bond between Dev Bentham and me because I got to know her during the polling process. What polling process, you may ask? I wrote Magic Mansion as a choose your own adventure type story. Because the concept was that the characters were participating in a reality show, the competition was periodically voted off—and I let readers do the voting in my monthly newsletter. There was a spot each month for readers to leave additional feedback on the polls, and Dev always sent me the most wonderful notes.
Today she's put together a few questions for me about the novel.
Dev: I've always wanted to know how much you plotted/thought ahead each month and how much was all new after you'd seen the results of the poll.
Jordan: Because I couldn't predict who would get voted out, I had to be incredibly flexible. The way I remember it, I really couldn't do any planning at all. It was sort of like being part of an improv group. Each month I got my prompt and I ran with it.
Dev: Had you thought up the challenges?
Jordan: You would think I could at least do that, but no. The challenges were designed to shuffle different magicians to the top of the pack, so I'd think of things that the magicians would either really do well on, or really stink at. And I'd need to know who my "cast" was that week to design the challenge. Sometimes it was exciting to have someone unexpected win or lose a challenge, but for the most part I wanted the scoring to seem realistic.
Dev: And was there ever a week where you were rooting for a different character than the readers chose?
Jordan: (spoilers ahead)
(
Spoiler!
Collapse
)
This early vote really changed the feel of the Gold Team. With the negative energy gone, they bonded strongly and transformed from underdogs to the team to beat. That's a classic plot arc that readers can really get behind.


Find Magic Mansion in Kindle and paperback at http://amzn.to/1PzADLX
If you haven't read Magic Mansion yet, you're in for a treat! It's packed with juicy elements: suspense, hijinks, memorable characters, twists and turns, and a long, involved plot. There's also a sprinkling of paranormal, though contemporary readers would enjoy the story too.
And if you hate reality shows, not to worry. It's not a retelling of a reality show, it's a behind-the-scenes look at the machinations of the producers and the competitiveness of the contestants. With magic. And a deserving couple falling in love.
Win a Magic Mansion ebook
Check out a
sample
at JCP Books
Find Magic Mansion on
Amazon
Time-Sensitive Vote
The
5th annual M/M Romance Group Member's Choice Awards
is incredibly time-sensitive with voting coming to a close
6:00 p.m. eastern time on 15 January.
You must be a member of the Goodreads M/M Romance group to vote, and be logged in to your account.
I'd love it if you'd take a moment to click if any of the following stories or characters have brought you joy!
Poll #2 Favorite All-Time M/M Series - PsyCop
Poll #4 Best Short Story - Canine (A Channeling Morpheus Short)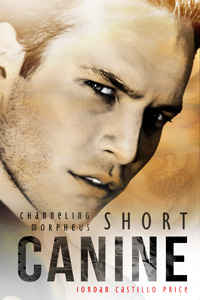 Poll #6 Best Fantasy - Charmed and Dangerous
Poll #12 Best Main Character - Wild Bill
Poll #13 Best Anthology - Charmed and Dangerous
Poll #15 Favorite All-Time M/M Romance - Among the Living
Poll #22 Best Gay/Out For You - Life is Awesome (Mnevermind 3)
Poll #28 Best Cover Art - Charmed and Dangerous
Poll #40 Best Sci-fi/Futuristic/Post-Apocalyptic/Steampunk - Life is Awesome (Mnevermind 3)
Poll #44 Best Paranormal - Charmed and Dangerous
Poll #47 Favorite All-Time M/M Author - Jordan Castillo Price

VOTE HERE! :-)
Jordan:
Lou Harper is a dear friend who I respect as both an author and a cover designer. We enjoy talking shop with each other, so I proposed a little challenge where we use the same three elements: a subject, a background and a title, and see what sort of ebook cover we'd design using them. I'm aiming for a thriller and Lou is doing an urban fantasy.
We had lots of fabulous reader suggestions for titles and it was difficult to pick. In the end we went with
While the City Sleeps
, suggested by Linda Martinez. I thought it could really evoke either genre.
Lou:
Jordan used to post Photoshop tips on her blog and I learned a lot from them. She also got me hooked on a handful of sites that offer deals on design stuff. The woman knows my crack.
(
Read more...
Collapse
)
Interested in seeing more of Lou's cover art or maybe commissioning one for your own story? Find her on
deviantart
and
pinterest
.
And I've got a new cover out calendar out for 2016, grab it at
Zazzle
.